✅ The most effective 𝗲𝗺𝗮𝗶𝗹 𝘁𝗲𝗺𝗽𝗹𝗮𝘁𝗲 to contact potential SEO clients.
👉 It gets a lot of attention, and I want to share it for FREE!
Here's how it works 👇
⚠️ Don't worry, you don't need to write or come up with anything, as the template is already done for you. The steps below are only to explain WHY it works ⚠️
✔️ 𝗦𝘁𝗲𝗽 𝟭 – Get your first lead from the list of prospects (if you missed it, I posed a detailed process on LinkedIn last week on how to find seo prospects here ).
✔️ 𝗦𝘁𝗲𝗽 𝟮 – Give an enticing and personalised offer, ideally providing some insights and value for free. 👉 PRO TIP: Usually letting them know what position they rank for a specific word in a specific location, or offering a site audit in video format works really well. IMPRTANT: you are not recording anything just yet, however, you are mentioning that you will be sharing the video audit.
✔️ 𝗦𝘁𝗲𝗽 𝟯 – Send the email to enough people and you will get a client.
✔️ BONUS STEP: This is not included within the Template, but I recommend following up every 2-3 days for a total of 3-4 times max with the people who didn't respond (for optimal results).
𝗛𝗲𝗿𝗲'𝘀 𝘄𝗵𝗮𝘁 𝘆𝗼𝘂 𝗰𝗮𝗻 𝗲𝘅𝗽𝗲𝗰𝘁:
👉 Contact 100 prospects.
👉 Open rate can be estimated around 20% (mine was actually 30% on the first email).
👉 Out of those 20 people, 5-6 will probably respond.
👉 2 or 3 will then jump on a call with you.
👉 1 can become your perfect 𝗻𝗲𝘄 𝗰𝗹𝗶𝗲𝗻𝘁.
Every case is obviously different and figures may slightly vary for you, but you can definitely use this strategy to pitch for new business.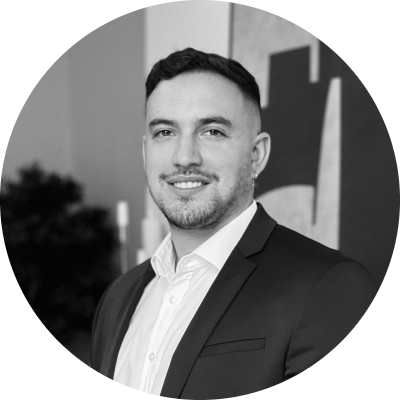 Hi, I'm Nicholas Bortoluzzi (but people often call me Nico).
I am the Founder and Director at SEO Lynx, an internet marketing agency operating in the UK and servicing clients worldwide.
The article on this page was written and curated by myself.