Buckle up, because today we're going to talk about a vital tool in your digital marketing arsenal – a tool that photographers may not always consider. Picture this; you've got an aesthetically pleasing website, boasting a wide collection of your best photos, yet you're struggling to attract traffic. That's where SEO, or Search Engine Optimization, comes into play. In the ever-changing world of technology and social media, standing out as a photographer is more than just about your apt skills and spectacular shots. It's also about understanding how to position your brand in the digital landscape – and SEO can be your best ally. This article is going to be your friendly guide to understanding and leveraging SEO for photographers.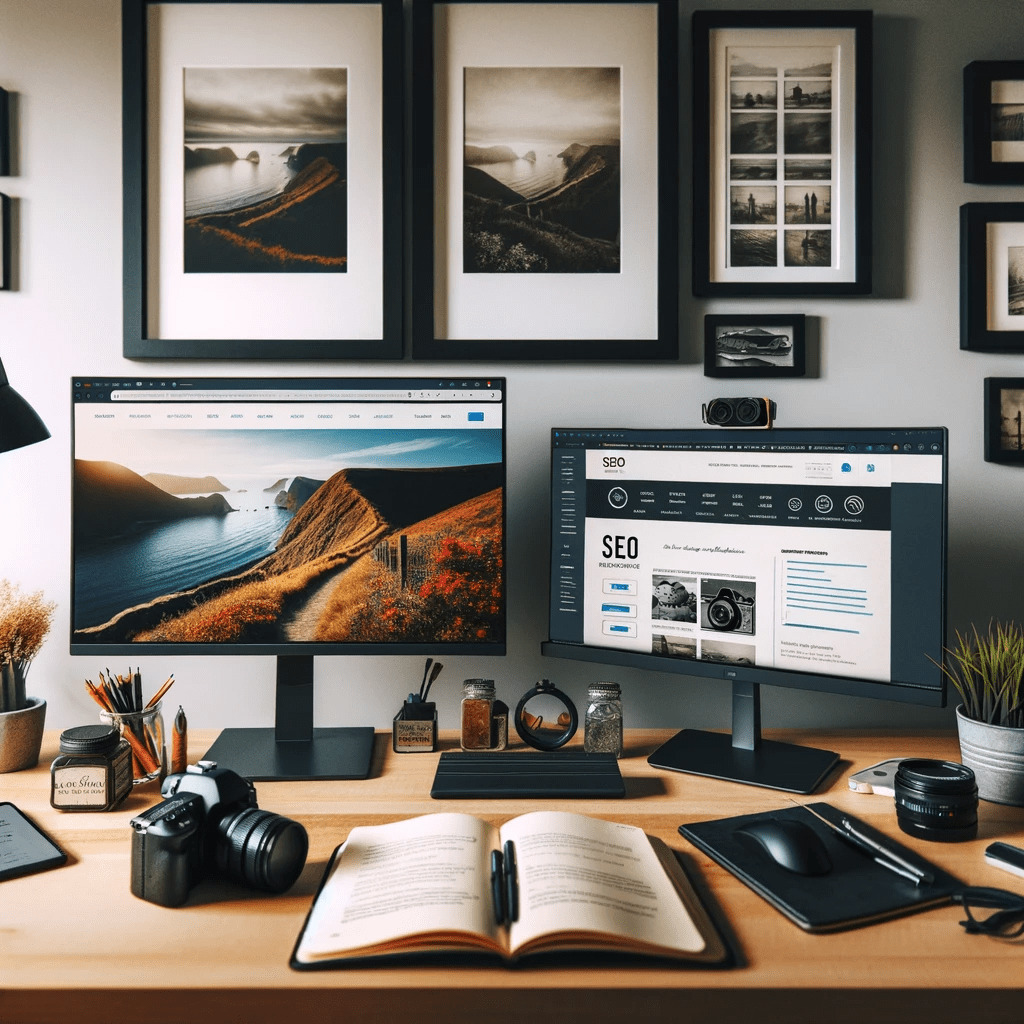 SEO in the Context of Photography
In the digital world, attracting visitors to your photography website goes beyond having stunning visuals and a well-designed portfolio. This is where Search Engine Optimization or SEO plays a vital role. But what is SEO in the context of photography? It's simply the process of improving your website's visibility on search engine results, particularly in Google, through a variety of techniques.
The Role of SEO in Photography Websites
First, SEO helps your photography website to be easily discovered by potential customers. By optimizing your site, search engines can understand what your site is all about and rank it higher in the search results. Therefore, when someone searches for a photographer or related services in your area, your website has a better chance showing up.
Why Photographers Need SEO
If you're a photographer, investing in SEO can be highly beneficial. With SEO, you can attract more organic traffic to your website and convert these potential clients into booking customers. Moreover, as you climb up the search engine rankings, you'll also be building your credibility and brand reputation.
Keyword Research Strategies for Photographers
As part of your SEO strategy, keyword research is crucial. Keywords are the search terms that people type in search engines when looking for photography services.
Determining Relevant Keywords for Photography Business
Ideally, you should aim to rank for keywords that are relevant to your line of work. For example, if you're a wedding photographer in London, some potential keywords could be "wedding photographer London", "best wedding photographer in London", or "affordable wedding photography London."
Keyword Research Tools Applicable for Photography SEO
Google's Keyword Planner or SEMRush are excellent keyword research tools you can use. They can provide insights into how often certain keywords are searched for and how strong the competition is for these keywords.
Long-tail Keywords and Their Importance in Photography Niche
Long-tail keywords, which are longer and more specific phrases, tend to have less competition and a higher conversion rate. They allow you to target niches more accurately, making them critical for your photography SEO strategy.
SEO-Smart Website Design for Photographers
Besides keywords, it's also crucial to consider SEO when designing your website:
Clean, simple, and user-friendly design can boost your SEO. Make sure your website is easily navigable, with clear menus and logical page hierarchy. This not only improves user experience but also helps search engines index your site more effectively.
More and more people are using their mobile devices to search online. Having a mobile-friendly design not only improves user experience but also gives you an edge in Google's search algorithm.
Your website speed significantly impacts your ranking on search engines. Slow loading times can deter visitors and increase your bounce rate, leading to a lower SEO score. So, optimizing your images and implementing site speed improvements can be beneficial.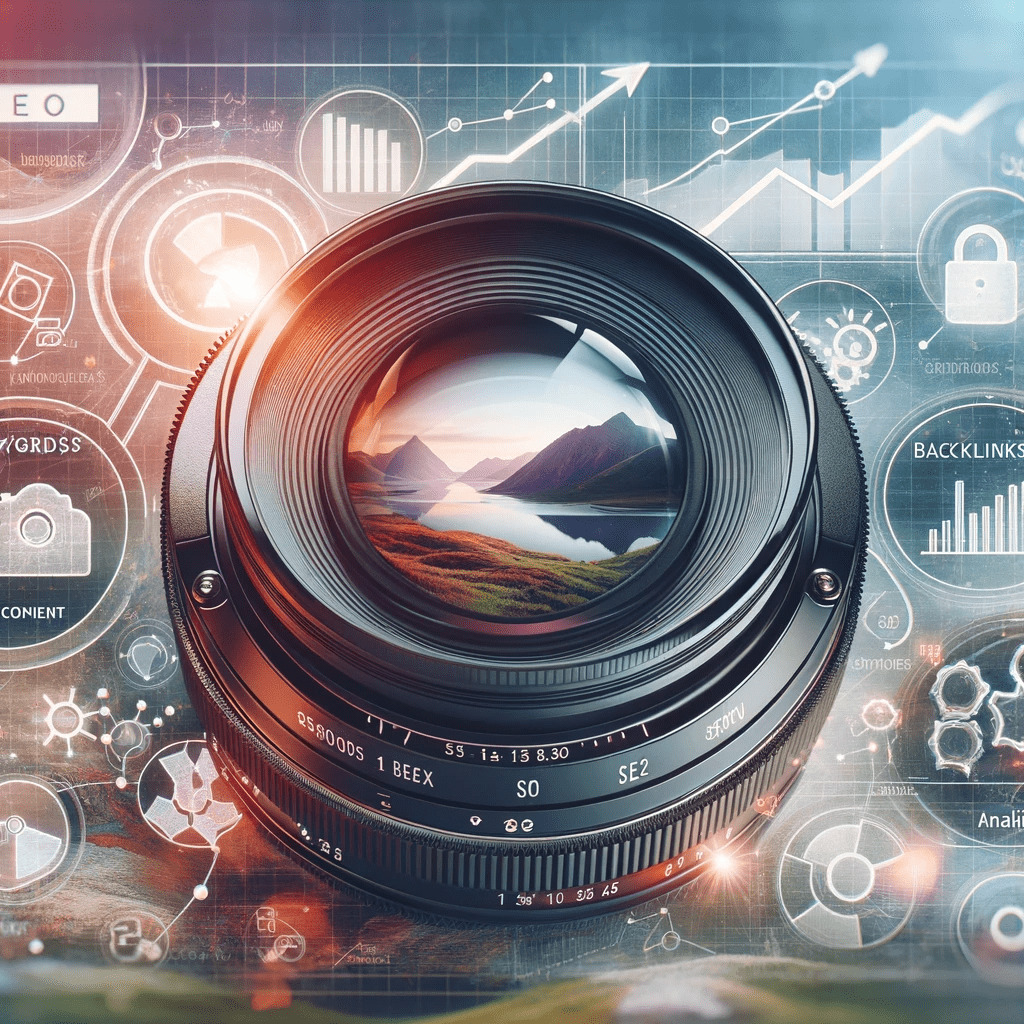 On-Page SEO Techniques for Photography Websites
On-page SEO techniques, which include enhancing the content and HTML code of your site, play a vital role in improving visibility and user experience.
Meta Tags and Their Influence on Photography SEO
Meta tags are snippets of text that describe a page's content. They don't appear on the page itself, but in the page's code. Well-crafted meta titles and descriptions can improve your click-through rate and benefit your SEO.
Importance of Alt Tags for Image Search Optimization
Alt tags are essential for a photography website. They provide context to images and are used by search engines to understand what an image is about, boosting your visibility in image searches.
Content Optimization Tips for Photography Site
Great content captivates your audience, keeps them on your site longer, and improves your SEO. Always ensure that your content is relevant and engaging, and make sure to include your target keywords naturally within your content.
Off-Page SEO Strategies that Benefit Photographers
Off-page SEO refers to actions taken outside of your website that impact your rankings. These strategies include building high-quality backlinks, guest posting, and getting listed in online directories.
Backlink Building for Photography SEO
Backlinks are links from other websites to yours and they act as votes of confidence. In general, the more quality backlinks your site has, the higher it will rank in search engine results.
Guest Posting and Collaboration for Better SEO
Guest posting and collaborations can help you create high-quality backlinks. For instance, offering to write a guest post for a reputable photography blog will not only expose your work to a broader audience but also provide you with a valuable backlink.
Online Directories and Their SEO Advantages for Photographers
Listing your website on photography and business directories can enhance your online presence and boost your SEO. However, make sure that your business information, such as name, address, and phone number, is consistent across all directories.
Navigating Local SEO for Photographers
Local SEO is just as important. As a photographer, you want to show up when people in your local area are searching for photography service.
Claiming and Optimizing Google My Business for Photographers
Google My Business is a powerful tool for improving local SEO. Claiming and optimizing your listing by adding your business details, photos, and servicing hours can increase your visibility in local searches.
Leveraging Customer Reviews for Local SEO
Online reviews don't just build trust, they also influence your SEO. Encourage happy customers to leave reviews on your Google My Business page, and always respond to these reviews as it signals to Google that you value customer interactions.
Local Keywords and Their Importance for Photographers
Local keywords are incredibly important for photographers. Incorporating local keywords like your city or neighborhood in your website and content can help you rank for local searches.
SEO-friendly Photography Blogging Tips
Blogging is a powerful tool for enhancing your SEO. It provides an opportunity for you to add fresh and relevant content to your site regularly, which search engines love.
Utilizing a Blog to Boost SEO for Photography Site
A blog can significantly enhance your SEO by allowing you to add valuable content containing your targeted keywords regularly. This means more opportunities to rank in search engine results and attract more visitors to your site.
Optimized Blog Post Structures for Better SEO
To optimize your blog posts for SEO, follow a structured approach. This includes having a compelling title, using headings and subheadings, breaking content into short paragraphs, and using bullet or numbered lists for easy readability. Also, remember to include your keyword naturally throughout the post.
Blog Content Ideas that Improve SEO
Blogging about photography tips, behind-the-scenes processes, or client testimonies not only engages your audience but also improve your SEO. Each blog post is an opportunity to incorporate relevant keywords and a chance for your site to show up in more search results.
SEO and Social Media Integration for Photographers
Balancing SEO with a strong social media strategy can lead to better rankings and increased traffic.
Using Social Media to Boost SEO
While the direct impact of social media on SEO is still a heavily debated topic, there's no denying that an active social media presence contributes to increased brand visibility. Sharing your content on social platforms can also generate more traffic to your website.
The Impact of Social Signals on SEO
Social signals like shares, likes, and comments may impact your SEO. They indicate your brand relevance, credibility, and popularity. They also generate more online visibility, leading to more opportunities for backlinks.
SEO Benefits of Video Content on Social Media
Video content is becoming increasingly popular on social media, and it can indirectly contribute to your SEO efforts. Videos increase user engagement, which can lead to higher shares and potentially more backlinks.
Analytics and SEO Performance Monitoring
An essential component of SEO is monitoring your performance. This can help you understand whether your efforts are paying off and where improvements may be needed.
Understanding SEO Metrics for Photography Site
Keeping track of SEO metrics like organic traffic, bounce rate, page load speed, and keyword rankings can help measure the success of your SEO strategies. These insights can guide your decision-making process and help you fine-tune your approaches.
SEO Tools for Performance Analysis and Monitoring
Tools like Google Analytics and Search Console can provide you with valuable data about your site's performance. They can show you where your traffic is coming from, which pages are most visited, and how long visitors stay on your site, among other things.
Interpreting Data to Improve SEO Efforts
Interpreting SEO data is not always straightforward, but it's an essential part of your strategy. By understanding what the data is telling you, you can make informed decisions about where to focus your efforts and how to adjust your strategies for better outcomes.
Common SEO Mistakes Photographers Should Avoid
Like in anything else, common mistakes can undermine your SEO efforts. Here are some pitfalls to avoid.
Overuse and Misuse of Keywords
While keywords are essential to SEO, overusing them, also known as keyword stuffing, can harm your SEO. Search engines may perceive this as spammy behavior and potentially penalize your website.
Neglecting Technical SEO Aspects
Don't overlook technical SEO factors like site speed, mobile optimization, and site structure. They can significantly impact your rankings and user experience.
Ignoring SEO Updates and Latest Practices
SEO is a fast-changing field. Staying abreast with the latest SEO trends and algorithm updates can help you maintain and improve your search engine rankings.
In conclusion, optimizing for SEO can seem daunting. But by understanding and implementing these strategies, you can significantly enhance the visibility of your photography website, attract more organic traffic, and convert more bookings. SEO is a long-term investment that pays off significantly for your online presence and success.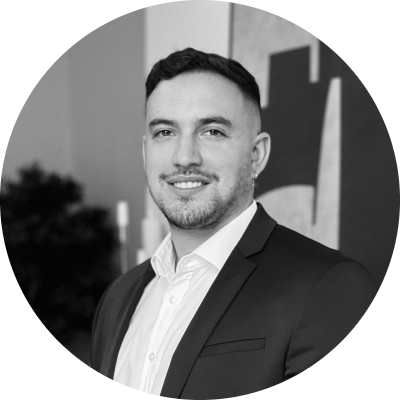 Hi, I'm Nicholas Bortoluzzi (but people often call me Nico).
I am the Founder and Director at SEO Lynx, an internet marketing agency operating in the UK and servicing clients worldwide.
The article on this page was written and curated by myself.